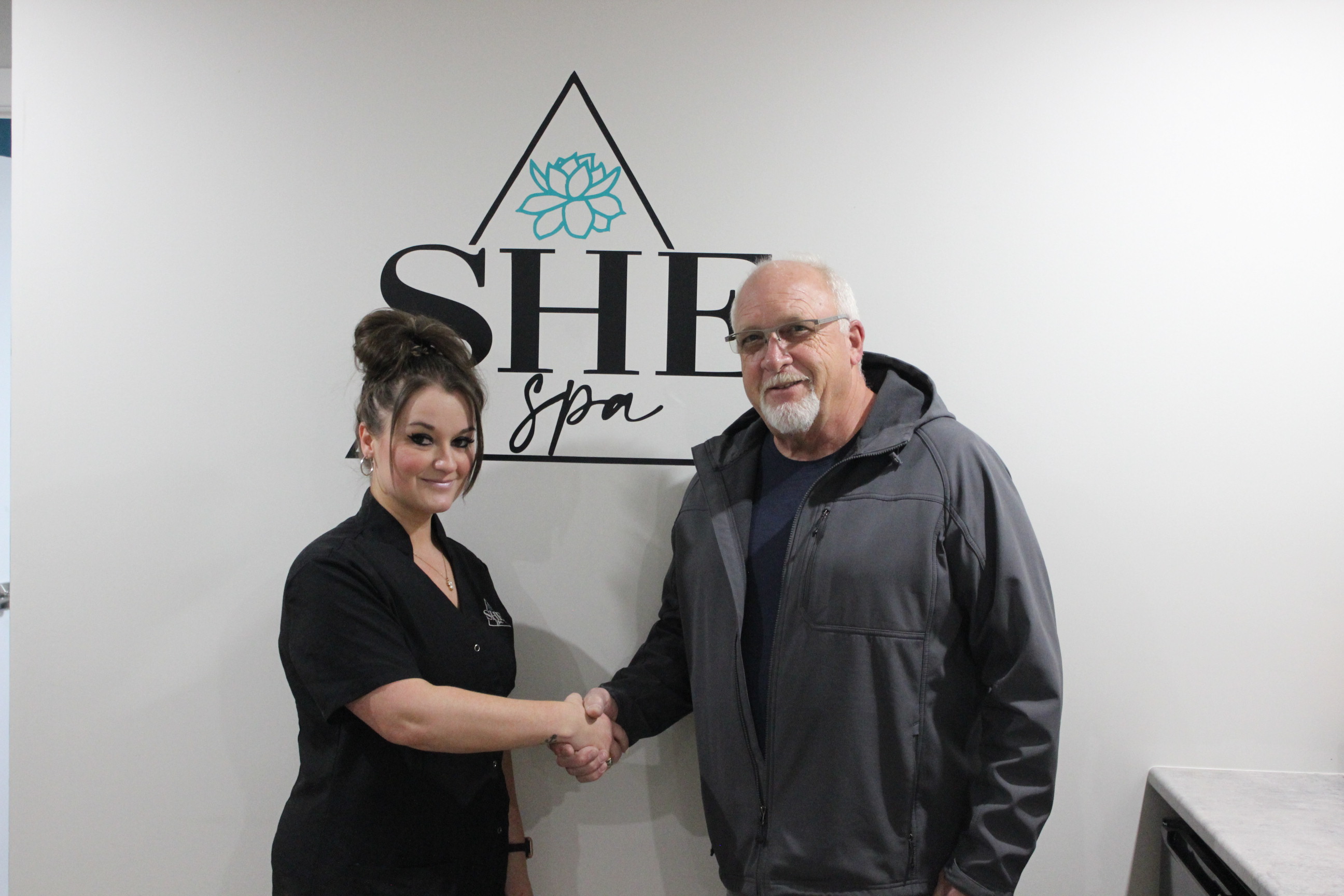 Mayor's Monthly Business Spotlight Recipient for August 2023: SHE Spa
SHE Spa is an upscale home spa that prides itself on providing top-notch services in a clean and professional environment informed by the owner's wealth of experience from her Medi Spa background. With a wide range of offerings, including manicures, pedicures, waxing, advanced facials, teeth whitening, spray tanning, and numerous laser services such as hair removal, skin rejuvenation, acne treatments, tattoo removal, skin tag removal, skin tightening, body contouring, carbon facials, and more, they have become a reputable destination for beauty and wellness needs. Having been in the esthetic industry servicing clients in Vegreville for over ten years, and operating as SHE Spa for the past three, owner Shelby Schneider says she appreciates the warmth of the community, where clients are not just customers but part of the family, fostering a close-knit, small-town feel.
For more information, you can visit the SHE Spa website HERE
---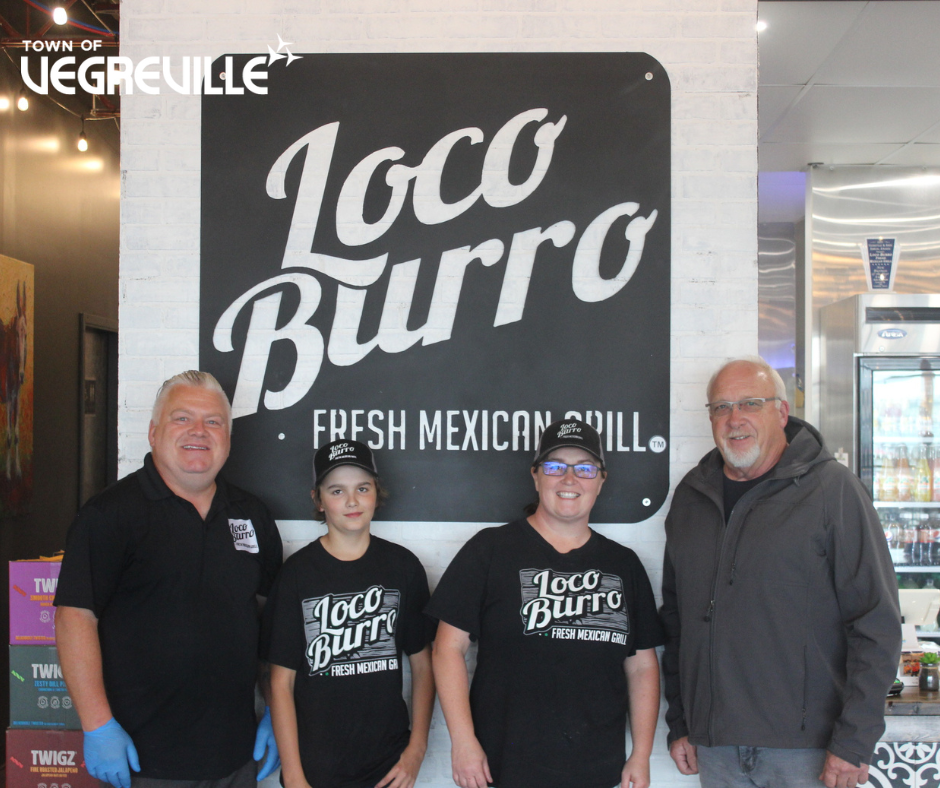 Mayor's Monthly Business Spotlight Recipient for July 2023: Loco Burro Fresh Mexican Grill
Loco Burro Fresh Mexican Grill, is a family-owned restaurant that has been proudly serving Vegreville for over four years. Born out of a love for both the Vegreville community and great food, this business has grown to a six-employee team committed to providing exceptional service to their customers. Understanding the needs of busy households, the restaurant offers fresh, delicious, and fast meals that can be customized to individual tastes. With a diverse menu featuring various meal combinations, Loco Burro caters to a wide range of dietary requirements, including Vegan, Keto, Soy-Free, and Celiac options, ensuring that everyone can enjoy their flavorful offerings.
'We have found the community support for our business awe-inspiring. The true test was in 2020 when so many businesses in larger centres were closing, the amount of local support we received that year allowed our business to not only make it through the difficult period, but we actually grew that year! We will always have a special spot in our hearts for the people of Vegreville and area.'
-LeeAnne Kermode, Loco Burro Fresh Mexican Grill Owner
For more information on Loco Burro Fresh Mexican Grill, visit their website HERE
---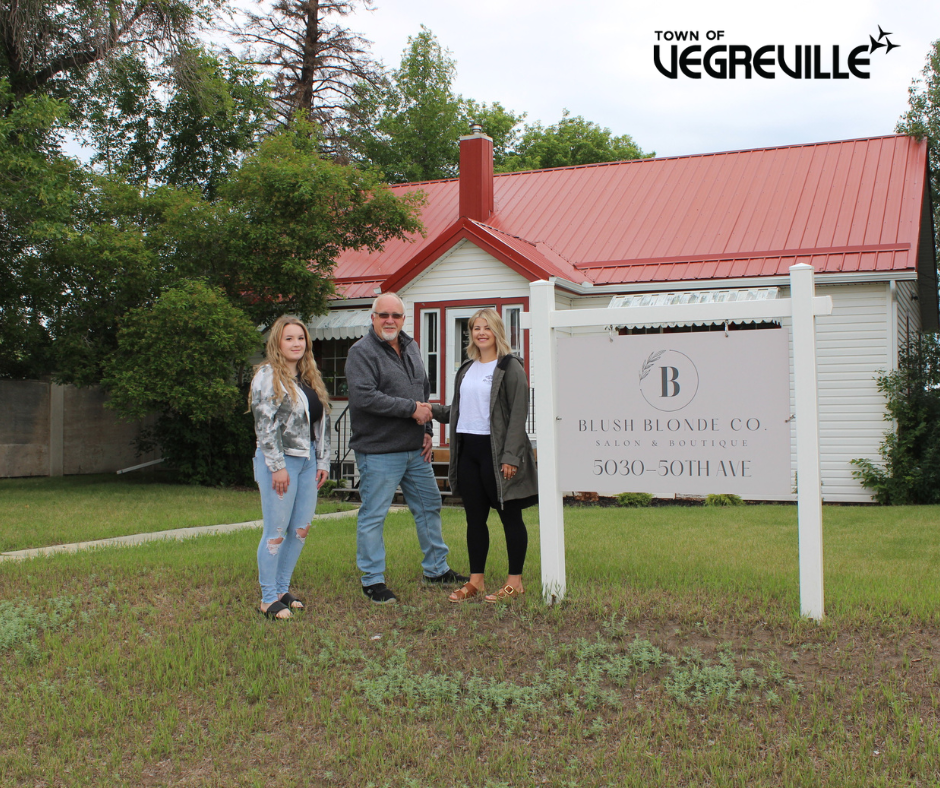 Mayor's Monthly Business Spotlight Recipient for June 2023: Blush Blonde Co.
With two successful years under its belt and four employees, Blush Blonde Co. has built strong connections with its clients and embraced the tight-knit community of Vegreville. The salon and boutique provides a unique experience where clients can not only receive outstanding hair and esthetic services but also explore a small storefront showcasing Canadian businesses. This integration allows Blush Blonde Co. to foster personal relationships and build a sense of community.
'Operating a business in Vegreville is very rewarding. We are able to connect with our clients by sharing other local experiences and get to know members of the community on a more personable level. When we donate to local fundraisers it has a direct impact on the community. Many people want to see small businesses become successful and for that, we are so thankful for this community for supporting us!'
- Stephanie Wowdzia, Blush Blonde Co. Owner
As the recipient of the Mayor's Monthly Business Spotlight for June 2023, this business stands as a shining example of the vibrant entrepreneurial spirit thriving in Vegreville.
For more information on Blush Blonde Co. visit their Facebook page HERE